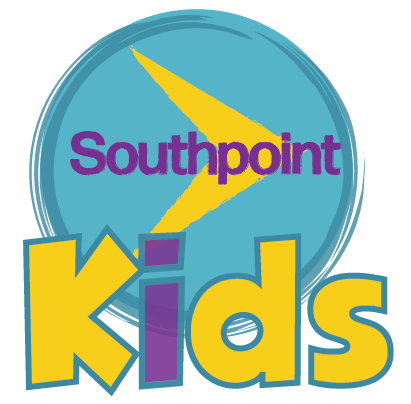 Fun & safe environments for kids (nursery – 5th grade)
at all Sunday services!
If your family likes to get lunch in early before afternoon naps or activities, then this service is perfect for you!
Mornings aren't your thing?  No worries!  We'll see you and your kiddos at our 11:15am service!
Volunteer with Southpoint Kids!
Frequently Asked Questions
More info on Southpoint Kids on Sunday mornings
What will my kids be learning?
Our littlest ones, babies through 23 months, are welcomed into safe, loving environments where they are cared for, sung to, and played with to remind them that they are loved.  Our pre-k kiddos from 2-5 years have special spaces for them to learn basic truths about God and His love for them.  Our school-aged children, kindergarten through fifth grade, walk through key Biblical narratives from the Old and New testaments to help them understand God's plan to redeem the world through His son, Jesus.  This is done through games, activities, large group storytelling, short video media, and age-specific small groups.
How will your team keep my kids safe?
Each week, you will be given a printed sticker with your child's name and family code.  Another matching sticker is placed on your child.  Only those with the matching parent sticker will be permitted to pick up that child.  As another layer of security, doors leading to classrooms are locked during each service.  All Southpoint Kids volunteers are vetted with verified references and are also required to submit and pass a thorough background check that encompasses both state and federal agencies.  Many of our volunteers are trained in CPR and First Aid.  All volunteers are trained for weather situations and emergency evactuations.
Where should I go when I arrive?
When you enter through the main doors, our Kids Check-In Team is directly to your right, ready to welcome you, meet your children, help you check-in for the first time, and help everyone get to the right place!  You can save time by pre-registering your kids.
What if my kids need me during service?
Sometimes little ones need diapers changed or just a hug and encouragement from you.  If that happens, your family code will appear on the screens in the auditorium.  If you see your family code, please exit to the rear of the auditorium and head to the kids area.  One of our team members will inform you of your child's needs and take you back to comfort them!
We have accommodations for children with special needs!
We know that our little ones with special needs need special care and attention, but we also know they want to learn all about Jesus!  We've created a unique space that we call our "Special Treasures" room that is available during our second service.  Your child will enjoy a structured, safe environment with volunteers who are trained to specifically work with special needs.  We equip this space with special accommodations that we know can make a big difference (things like noise canceling headphones, soft lights, cues to help nonverbal communicators, 2:1 adult to child ratio, etc.)  We will want to spend some extra time with you at first visit to really get to know all about your child, their specific needs, and any specific concerns you might have.  You can come by and check out our space and talk with our team anytime.
What's going on around here?
Here's how to find out...